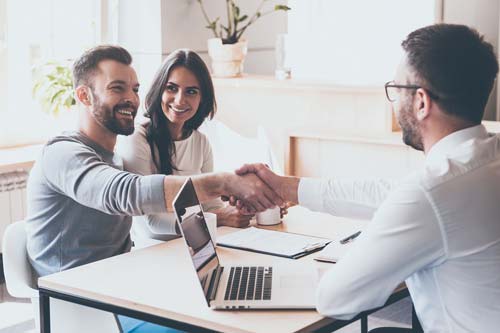 You have made an important decision to purchase a home and we are ready to ensure that the home buying process is as smooth as possible for you and your loved ones. We believe in one simple, but often over-looked detail: YOU. Your Wants. Your Needs. Your Goals. The next few pages will outline the steps of your home buying journey so that you always know what is happening next.
Don't worry, we will guide you through each step and are here to answer any questions you may have. At the end of your journey we want you singing our praises, as referrals are the backbone to our business. If at any time there is something we can improve on, please let us know! We are in this together as partners and communication is key to any winning relationship. THANK YOU for your trust…we are thrilled to have you as part of our team
Step 1.) Select a Realtor
Why is it so important to partner with a knowledgeable real estate
agent? Buying a home is one of the largest financial investments
you will make in your lifetime and having a guide to navigate you
through the process is priceless! Buying a home is fun, but also
emotional so it is critical to have a skilled Realtor by your side from
start to finish, and beyond!
What Does My Realtor Do?
• Helps identify my real estate goals
• Works closely with mortgage lenders for my pre-qualification
• Researches neighborhoods, builders, school information, etc.
• Schedules and accompanies showings of properties
• Contract writing for offers, including proper required disclosures
• Submits offers
• Negotiates offers: understands motivation and desires
• Coordinates closing attorney, home warranties, etc.
• Schedules home inspections: physical, radon, etc.
• Meets contractors on my behalf for estimates
• Attends home inspection & completes request for repair addenda
• Follows up on seller required contingencies: termite & septic/well inspections
• Audits receipts of agreed upon repairs
• Schedules final walk through and re-inspections of the property
• Attends closing with me
• Ongoing follow up, contractor recommendations, etc
Step 2.) Talk to a lender
You dream of homeownership and our job is to make that happen! Obtaining a mortgage pre-approval letter from the very beginning of your journey is a crucial part to making your dreams a reality. Don't worry, we have several preferred mortgage lenders we can refer so we all have a clear vision of your homeownership path.
Why a Pre-approval is Important To Achieving My Real Estate Goals
• Clearly identifies my buying power and helps me identify a comfortable mortgage
• Takes cafe of any speed bumps that may come up in the process upfront
• Gives me confidence
• Sellers and their agent will not consider an offer without one
Step 3.) Identify goals and start shopping for your new home!
Now we are getting down to the fun stuff! Shopping for a home is much like shopping for jeans: sometimes you have to try a few on before finding the right pair and sometimes the very first pair you slip on fits like a glove. As we analyze your needs, we will customize your property search so we can find the homes with your favorite styles and features right away. In addition, we will network on your behalf to uncover listings that fit your needs but have yet to hit the market. When you work with us, it's almost like having your very own detective agency… almost.
What Should I Think About When It Comes To My Next
Home?
• Location: The most important criteria.
• Price: Know my budget, just because I can doesn't mean I
should.
• Schools: Do I have specific zones I would like to be in?
• Square Footage: How big or small? What about layout?
• How many minimum bedrooms?
• How many minimum bathrooms?
Excited yet? You should be! This is real life House Hunters and you are the star! During this step, we will schedule time to physically show you homes that seem to fit your needs.
Things To Keep In Mind When I Am Touring Homes For Sale
• Wear comfortable clothing and shoes
• Bring along some snacks and drinks
• Do take notes of what I like and what I don't like
• Be prepared to act quickly when I find The One!
• Bring my checkbook in anticipation of an offer
• Have fun!
Step 5.) Write an offer to purchase
Job well done! You have found a house that you are ready to call home and it is time to write an offer. This is where we will review the contract and determine specifics that are of the upmost importance in achieving your desired outcome.
What Do I Need To Consider To Write An Offer?
• Do I need/want to ask for the appliances?
• How much do I offer?
• Do I need/want to ask for seller paid closing costs?
• How much EMD (Earnest Money Deposit) do I put
down?
• What closing date do I want?
• What closing attorney should we work with?
• How long of an inspection time do I need?
• Do I want to ask for a seller paid home warranty?
• What deadline should I give the seller to respond?
Step 6.) Negotiate and accept a contract
We have successfully submitted your offer and now we negotiate the terms to create a win-win between you and the seller. Don't fret, we will guide you through this process!
What Can I Compromise On To Create a Win-Win?
• Can I, and do I, want to offer more in price?
• Do I NEED closings costs?
• Am I flexible on the closing date?
• Should I purchase my own home warranty?
Stuck in multiple offers? Check out my 6 secret ways to win in multiple offers
We have a "meeting of the minds" and… CONGRATULATIONS!
You are now under contract! The next few weeks will feel like a bit of a whirlwind, but we are here to make this process as
stress-free as possible.
Step 7.) Remove contingencies
In this step of the home buying process, we will help you clear any contingencies that were made part of the contract. These are items that must be completed to proceed to a successful closing.
What Are Possible Contingencies?
• Physical home inspection
• Septic and well inspections
• Removing a 1st Right of Refusal
• Appraisal
• Obtaining clear title
• Obtaining final loan approval
Step 8.) Close on your new home!
The only thing now standing between you and your home is a mountain of paperwork, so get your pen ready! On the day of closing, we will accompany you to the office of your closing attorney and you will sign the deed to your new home. Once all signatures have been obtained, you will be the proud owner of your new home. CONGRATS!
What Do I Need To Bring To Closing?
• One form of photo I.D.
• Your closing funds, including down payment
Do's and Don'ts for the mortgage process
DO
Continue to make all of your current rent/mortgage payments on time
• Stay current on all existing accounts
• Work your normal job schedule, with no unplanned time off
• Continue to use your credit as normal
• When in doubt, DO ask your loan officer for guidance.
DONT
DO NOT make major purchases (car, boat, jewelry, furniture, appliances)
• DO NOT apply for any new credit, even if something says you are pre-approved
• DO NOT pay off charge/ collections, unless directed to do so by your loan officer
• DO NOT close any credit card accounts or change banks
• DO NOT max out credit cards
• DO NOT make unusual cash deposits into your bank account (Remember, all non-payroll deposits must be explained and sourced)
• DO NOT move money around from one account to another
You may also be interested in...